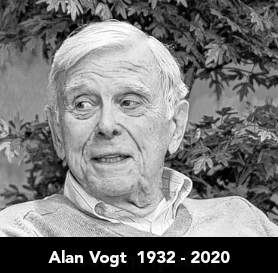 It is with a heavy heart that we announce the passing of our founder, mentor, and friend, Alan Vogt, who died peacefully with his family by his side on Tuesday evening.  Alan founded our firm in 1979 as Paramount Planning and grew the company into a regional leader in fee-only financial planning, helping hundreds of families and individuals along the way.
Before his retirement in 2010, Alan was one of the first advisors in the country to embrace fee-only financial planning, gaining his CERTIFIED FINANCIAL PLANNER™ certification in 1984.   His pioneering commitment to fiduciary advice for clients became the bedrock that guides Level Financial Advisors and its employees today.
Alan graduated from Cornell University in 1954 with a bachelor's degree in labor and industrial relations and later received his law degree from the State University of New York at Buffalo in 1960, finishing first in his class. In his early career he worked as an associate with Jaeckle, Fleischmann, Kell, Swaro, & Augspurgeo and later became a partner at the firm from 1964 through 1969.  Alan later went on to become vice president of finance and administration for the Sierra Research Corporation and then executive vice president for Retirement Plan Inc.
In 1979 Alan founded Paramount Planning, Inc.  Later, in 2000, he and Rosanne Braxton, CFP® joined with Richard Schroeder, CFP®, changing the name of the company to Schroeder, Braxton & Vogt.  Ten years later, after thirty years leading the company, Alan retired, but stayed engaged with the firm visiting regularly until his passing.  The company was renamed Level Financial Advisors in 2016 as Steven Elwell, CFP® and Michael Heburn became partners.
During his career, Alan was active in several organizations.  He was a member of the American Bar Association, the Registry of Financial Planning Practitioners, the International Association for Financial Planning Registered Investment Advisors (founding member of the WNY chapter), and a Chartered Life Underwriter.
As the founder of Level Financial, Alan mentored a diverse group of employees, many of which still work for the company today, servicing over 600 families and individuals in western New York and managing over $420 million in assets.
Level's president, Rosanne Braxton, CFP®, who began her career with the company as an administrative assistant for Alan over thirty years ago, offered these words after learning of his passing.
"Alan was my friend and mentor and a leader to many of our employees and we will miss him greatly.  I am deeply honored and blessed to have had Alan be in my life for thirty-two years.  He was a blessing in my life, and I will forever carry him in my heart. He was passionate about helping people with their financial planning and investment management needs. It was also very important to him to give back to the community.
A person that departs from this earth never truly leaves, for they are still alive in our hearts and minds, through us, they live on.  Alan will not be forgotten.  His memory will on live here at Level Financial Advisors and he will be greatly missed."
Level's Chief Investment Officer, Steven Elwell, CFP®, who worked closely with Alan starting as an intern and later as an advisor, provided these thoughts on his passing.
"I'm incredibly saddened to hear of Alan's passing and I'll miss his guidance and friendship.  Alan helped start and shape my professional career over the last thirteen years.  I owe a great deal to him for all the advice and mentorship he provided over those years.  He was someone that I deeply respected and admired, and someone who always had an insightful perspective.
When Alan spoke, you listened.  His steady demeanor and common sense approach proved excellent traits when he advised clients, and most benefited greatly from discussing their finances with him.
Lastly, I always admired the way Alan lived a full life.  He created a loving family, traveled the world, took leadership roles professionally, started this financial planning company, and gave back to the community.  We are all better for having Alan in our lives and appreciate all that he did during his life."
The entire team at Level Financial offers its heartfelt condolences to Alan's family, including his wonderful wife of sixty-five years Phyllis, who was largely a part of the Level family.  Full details of the arrangements for Alan can be found by clicking here.